Cooperative: A Program
08 April–09 April 2014
Screening and Round Tables
A programme by Raphaël Grisey
The artist Raphaël Grisey invites us to reconstitute an historical, political and cinematographic kinship, by relaying the adventure of the Malian agricultural collective "Somankidi Coura" and thanks to a program that associates archival materials and films from several generations of filmmakers who, like Sidney Sokhona, view the cinema as a tool for struggle and awareness. Two days of screenings and round tables in the presence of Raphaël Grisey (artist), Bouba Touré (photographer and video filmmaker), Tobias Hering (curator of the program "Living Archive" at the Arsenal in Berlin) and their guests.
In the mid-1970s, a small political group made up of members of the West African diaspora living in Paris decided to turn their backs on factory work in order to train with French farmers and form the cooperative "Somankidi Coura" in Mali. The director Sidney Sokhona made a fictional and group film on this subject, in which the real protagonists play the principal roles. One of the central figures is the politically committed photographer and filmmaker Bouba Touré. A generation later, with his video Coopérative (2008), Raphaël Grisey reconsiders this tale of self-empowerment and image production.
Tuesday April 8
19h00 : Presentation of the two-day program and screenings of excerpts of films by Bouba Touré and Raphaël Grisey
20h30 : Nationalité : Immigré by Sidney Sokhona (1976, 69min)
With Nationalité : Immigré, Sidney Sokhona introduces a new tone in the cinema of the African diaspora: powerfully confident, explicitly political and radically critical of all forms of discrimination against immigrants—in particular the paternalism of the French left.
Wednesday April 9
16h00 : Safrana ou le droit à la parole (Safrana or the right to speak) by Sidney Sokhona (1978, 99min)
Four African immigrant workers—one of them played by Bouba Touré—decide to leave Paris to train with farmers in the French countryside and then attempt a professional reinsertion in their country of origin. In the bus that takes them to the farms, they evoke their Parisian experiences: the miseries and derision that are the daily lot of the immigrant. With nothing to lose by leaving Paris, they hope that what they learn will prove useful when they return to their homeland.
18h00-20h00: Round table (With: Raphaël Grisey, Bouba Touré, Tobias Hering, Aïssatou Mbodj and others to be confirmed)
20h30: Projections
Super 8 Archives from the collection of the Somankidi Coura Cooperative
Bouba Touré, 58 rue Trousseau, 75011 Paris France by Bouba Touré (2008, 29min)
The video Bouba Touré, 58 rue Trousseau, 75011 Paris France, was filmed in Bouba Touré's Parisian two-room apartment, whose walls are covered with a great number of photographs, posters and souvenir objects. The video, filmed in two takes, is driven by these images on the walls. Touré links many political struggles of the last 50 years with his own life, showing and making references to the pictures. The narration finds its rhythm and manner of speaking through the repetition of certain phrases.
Coopérative, by Raphaël Grisey (2008, 76 min)
Side by side, two images. What is the reason for this division, this "split" screen? Without a doubt, one reason is the narrative itself. A group of former workers, all immigrants from West Africa, decide to return to Mali in 1976 to create a cooperative. First division: France, on the one hand (of which we see photographs culled from the archives of Bouba Touré, but also, slides of Africa projected in France) and Mali, on the other. Second division: in Mali, the men had to ensure that there was water, bringing it from point A to B: there are numerous images showing the installation of this flow of water, destined to link the river to the earth, life to life. Each shot, on both sides of the screen, is sufficient in and of itself, of course, and none of them lack descriptive precision, or internal dialectic (…), not to mention formal exactness. But the force of the images is doubled in this face to face, for a dialogue is initiated and its rules are always changing. Raphaël Grisey's ambition is to invite us to experience movement, the decentralization from one image to the next, one context to the next, one action to the next and to the mobile adjustment of our interpretations. Faithful to the subtle spirit of these earlier films, he offers us an extremely rare portrait of Africa. Jean-Pierre Rehm
Related Publication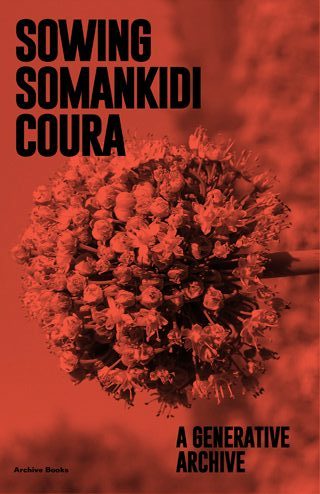 Archive Books
Location
Bouba Touré, Olivier Marboeuf, Karinne Parrot (GISTI), Aïssatou Mbodj-Pouye, Tobias Hering
PDF Download
Program and PDF